Easter traditions in Hungary
Hello and welcome back to my blog!

I hope you all had, despite the current situation, nice easter days. Hungary has its own tradition for Easter, which is called "húsvéti locsolkodás" (english: "pouring at Easter"). On this day the girls stay at home and wait for the men, who either alone or in groups, wander through the village and "haunt" the girls. When the men arrive, the young women try to flee, but are then "captured". Then the men recite a rhyme that they have learned by heart and ask for permission. Afterwards the women are "watered". In the past it was a bucket of water, today it's more like a little soda water or cologne. The women then give the men chocolate eggs/bunnies. The whole thing serves as a kind of proof of love and as a preservation of fertility and health of the women.

I have experienced the whole thing several times. The first time was as follows: My mother, my sister and I were at my grandparents' place in Tiszakécske at that time. I was between five and seven years old. Sometime in the afternoon a man came by with his son, who was about my age. The man was probably an acquaintance of my mother at that time, in any case I did not know him. My Mum and Grandma were completely excited. The boy then recited a poem and afterwards poured some stinky perfume over me or sprayed me with it. I remember that I was not pleased at all and wanted to get away as soon as possible. My mother then told me to give him some of my sweets that I had gotten for Easter as a sign of gratitude. Then the amusement completely disappeared. First he pours something smelly on me and then I should thank him with MY sweets? I did not understand that at all. But somehow I didn't have a say in that either, which is why the boy got something after all. I never saw the boy and his father again afterwards.
In the following years this happened a few more times. But I knew the boy very well who did it. After my grandmother separated from my grandfather, she moved in with her current partner. Through him we got to know each other and every time we visited my grandma we saw each other and played together. Because we were friends, it wasn't bad at all to be watered and share my sweets.
Since I spent every holiday with my grandparents in Hungary at that time, I was usually allowed to go egg hunting twice. First always in Hungary, because the Easter holidays usually ended around Easter and then at home. Once my grandmother's boyfriend hid the eggs outside together with my mother. You have to know that his property is huge, as it was once a company site. We searched for hours until late in the evening. At some point it was so dark that we had to give up. More than a year later my grandma's boyfriend found eggs while mowing the lawn. One day after the search, we flew back to Germany, where Daddy picked us up, as usual. One of the first questions to him was always "Has the Easter Bunny arrived yet?", which was always answered with "Yes".

Unfortunately Easter could only be "celebrated" in a small circle this year. Together with my parents we had a barbecue and I baked – as announced – nut corners. To be honest, they looked more like nut disasters, but they tasted really delicious! I also finished my self-portrait, which I don't want to withhold from you.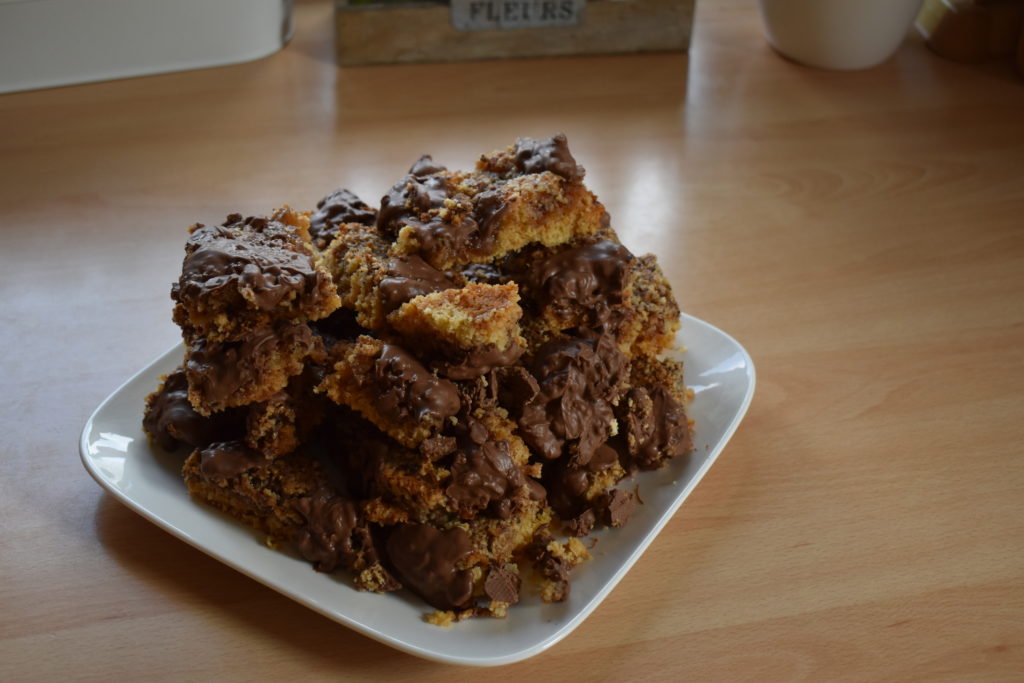 Unlike Santa Claus, I did not believe in the Easter bunny for so long. At least I think so, I am not sure about that. Since 2012 it was said that Günther (our rabbit) brings the Easter eggs. Unfortunately, the little one is no longer among us …

Do you have any special Easter customs or do you know any? Let me know in the comments or via e-mail!

Keep taking care of yourself and stay healthy!
Until then,
Your Patrizia