Welcome back to a new article!
On Monday afternoon (it was the the 3rd February) I moved to Pécs. The dormitory is located not far outside the city centre, but is very easy reachable by bus. Directly in front of the dormitory there is a video monitored parking lot where I can park my car. After I arrived, I went to the reception to register. For this, I only had to fill in some documents, show my identity card and pay the deposit. I now live on the first floor and from my room I have a view to the parking lot of the dormitory from where I have a very good view to my car. All international students are accommodated in the left wing of the dormitory (see the picture below). The right wing is reserved for Hungarian students. Our wing consists of several "blocks", in each of them is room for four people. In the entrance area there is a kitchen from where a door leads to the toilet on the left side and to the bathroom on the right side. The other two doors lead to the two bedrooms. Each bedroom has two desks, two beds and several cupboards.
The first two days I had the whole block to myself. On Wednesday my current roommate arrived. We share a room because the other room is locked and we don't get the key for it. Apparently someone else is supposed to move in. But in all other faculties the lectures have already started and also our lectures will start next week on Monday, so that this is relatively unlikely.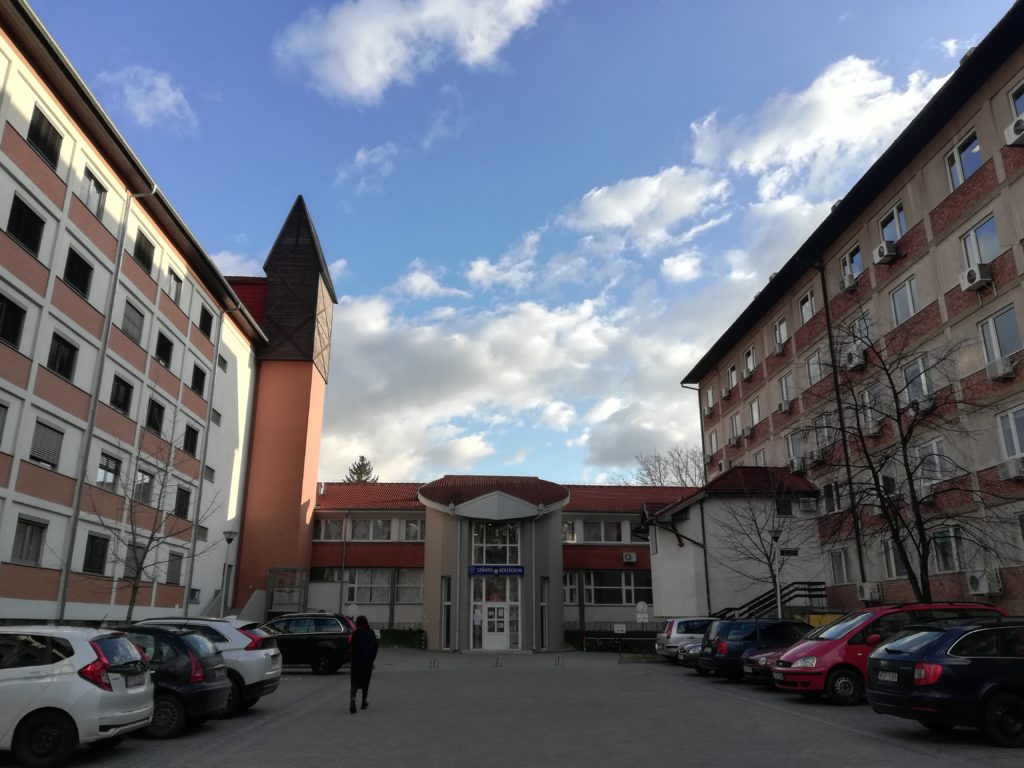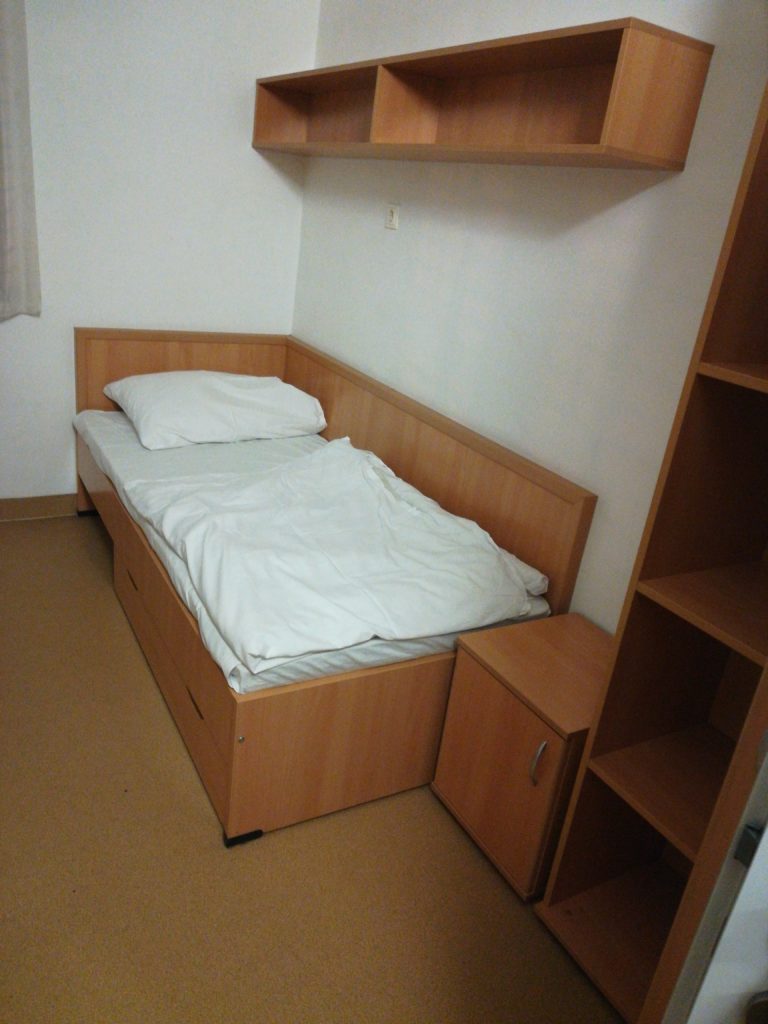 Throughout the week, evening activities were organised by the Erasmus Student Network (ESN). It started with the so-called Pub Quiz on Monday. Unfortunately a very strong migraine prevented me from taking part in the quiz. Also the next days the headache didn't want to say goodbye completely. Nevertheless I took part in the language tandem on Tuesday evening. During the day I used the time to unpack my suitcases, go shopping and clean up. My grandmother had given me plates, cutlery and a cup, but everything else I had to get first. The language tandem took place in Csinos Presszó in the city centre. Csinos is a kind of pub, which stands out by its unusual interior decoration. The furniture seems to be thrown together and doesn't seem to fit together, old photos and pictures hang everywhere and the bookshelves are crammed with books. It looks slightly untidy, but therefore all the more cosy.
On the tables were the flags of the countries of origin of us students. Now you could go from table to table and learn single words and sentences in the different languages. It was not only a good opportunity to get into conversation with the others, but also to talk about linguistic similarities and differences. At the end of the evening almost everyone had a knot in their tongue and the mispronunciation of some words of the "learners" caused a lot of laughter. The great thing about Pécs is that even at night there are buses every hour, so there is always the possibility to go home. For me as a village child a sensation! In addition, there is always someone to go with, as most of them live in the dormitory in Szántó.
On Wednesday we met with several students and registered for the courses and looked at the timetables. I have a total of five subjects, which will take place from Monday to Thursday. On Thursdays I have classes from 08:00-09:30, so I always have a long weekend and I can travel or visit my family in Hungary, for example. In the evening the pub crawl took place. We were divided into five equal groups of 15 people each and moved together from pub to pub. Pécs has a lot of pubs and even one of the discos was open on Wednesday. The nightlife is in no way comparable to the one in Emden or in East Frisia (where I come from) in general. Each pub offers at least five different freshly tapped beers. In addition to international beers, such as Heineken, they also have Hungarian specialities. In one pub there was even a schnapps that had the colour of the Hungarian flag. It was green at the bottom, white above and red at the top. In every tavern you can also get Fröcss (wine diluted with water) and beer with cherry flavour. Cyclists, for example, are not served at all, but instead there is the cherry-flavoured beer. But both Fröcss and the cherry beer are very tasty and highly recommended.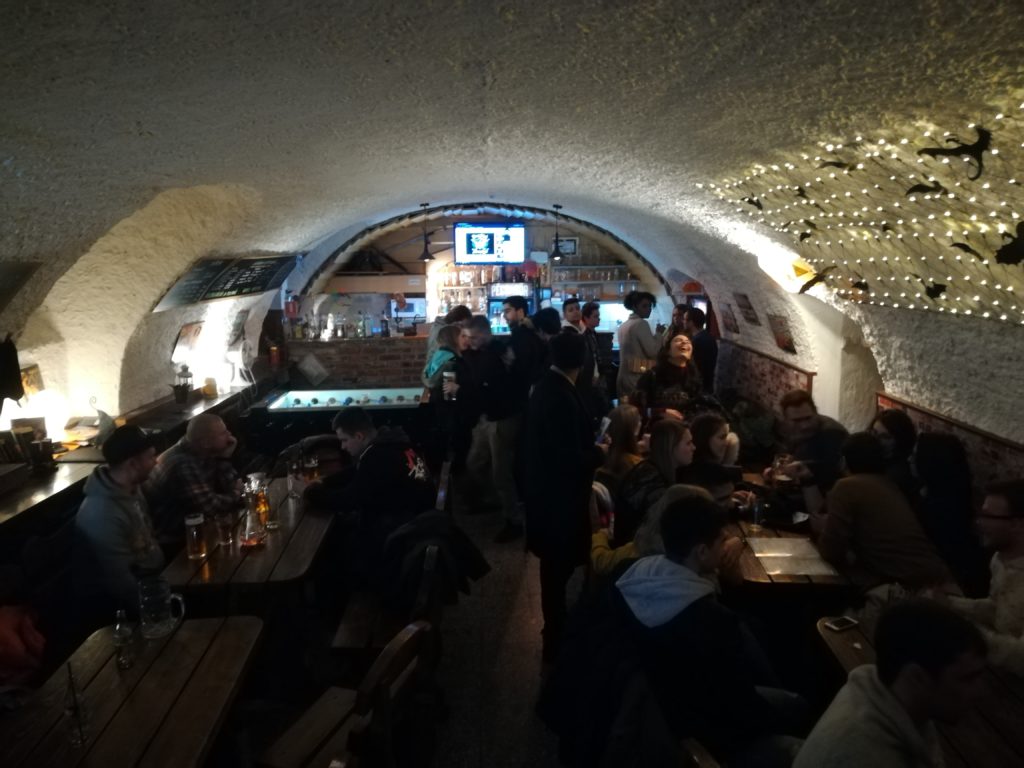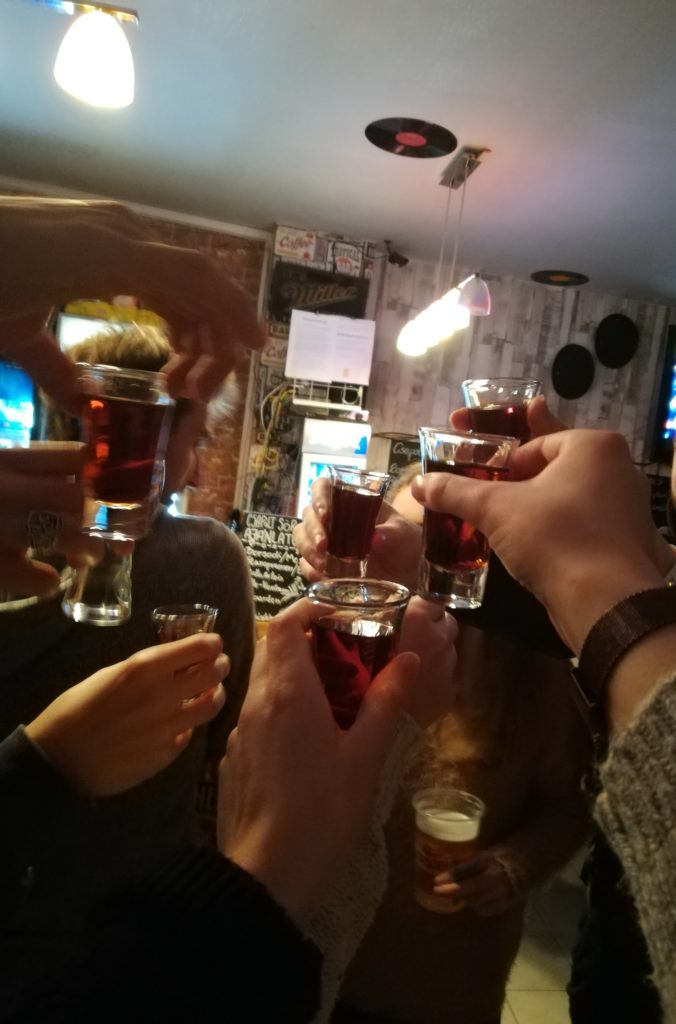 The following day I was at the university in the morning for the first session of the Hungarian course. I speak Hungarian fluently and I can also read, but I still have difficulties writing. To work on it, I will now go to this course twice a week, which is at language level B2. In May I will then take an exam. The exam is not a recognized language test like the TOEFL, but nevertheless I will receive a certificate.
In the evening we played Lasertag. For me it was the first time ever, so I was even more excited. The "playing field" is located in the basement and therefore underground. Everything is walled with stones like in a wine cellar and the bluish black light creates a mystical and even almost eerie atmosphere. Euro pallets, old car parts, oil barrels and similar half-height objects were set up everywhere, behind which one could easily hide. A few times I got quite scared, because suddenly someone was standing behind the corner and "shot me down". All in all it was a lot of fun and pleasure for all. I actually made it to sixth place out of 20 participants. For playing for the first time, not bad at all, especially since some of them were really damn good and played that for the second time. The hour went by way too fast and we decided to definitely come back again.
Yesterday morning there was a meeting of the Immigration Office where we got documents that we still have to fill out and they explained us again which offices we still have to visit. In total, as an EU citizen you are allowed to stay for 30 days in another EU country. After 30 days, however, it is compulsory to be already registered. After the lecture next Monday I will probably do all the paperwork once and get everything over with, so that I am on the safe side and don't get into trouble. The rest of the day we spent with several international students in the city centre. In the evening at nine o'clock we met in the hallway of the dormitory (practically in front of our "front door") to have a drink and then go to the semester opening party. But I didn't get that far. Again strong headaches prevented me from going. But everyone who was there assured me that I had not missed anything. The queue at the entrance of the disco was so long that even after almost an hour of queuing it was not foreseeable when you could come in. Many people either went back home or to a pub because of this.
The first week went faster than expected. But the first days were anything but easy. Because I lived alone and didn't really know anybody, I felt very lonely and strange. After my roommate moved in, things got better. We get along very well, are both tidy and consider each other. I wasn't the only one who misses her friends and family, almost everyone felt the same. This makes you feel understood and less alone. We are all in the same boat and that is good to know. After one week I can already say: I like it very much, I have met many great and very likeable people. It will probably take a few more days, but I am on a good way to get used to my "new" life. I am glad that I dared to take this step and I am really looking forward to the upcoming time! The next update will be available when I "get over" the first week of lectures. Now a few more pictures from Pécs will follow.
Until then,
Your Patrizia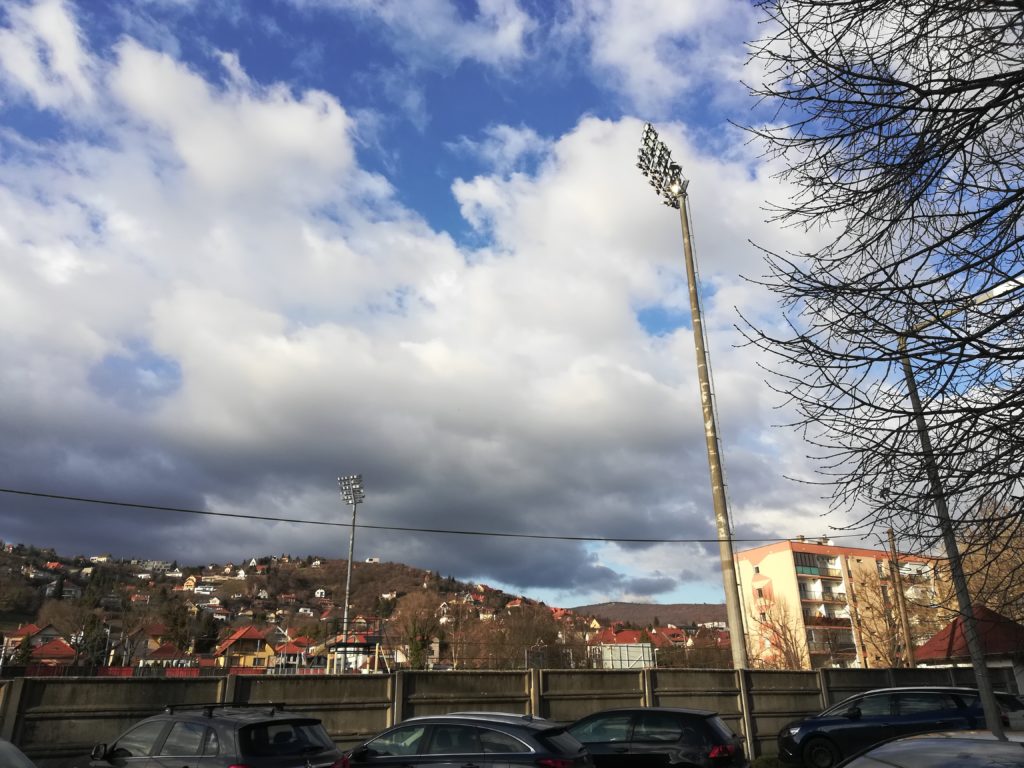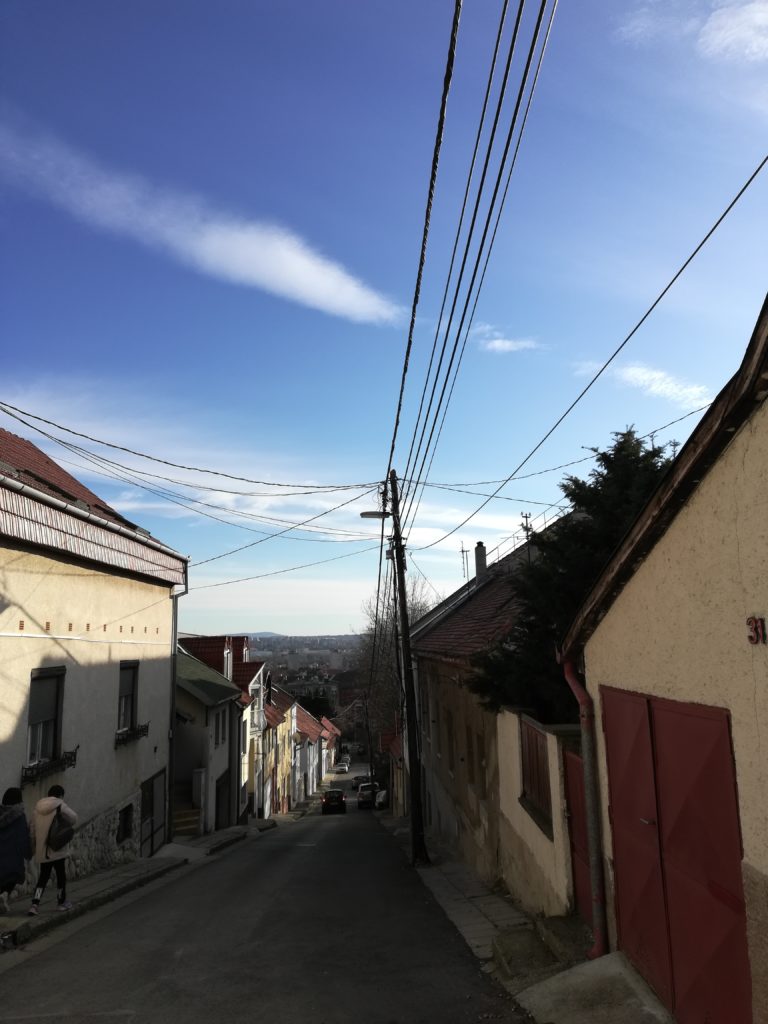 P.S.: No, the pictures were not all taken in one day, the sun is actually shining almost every day. Nevertheless, it has been terribly cold and windy the last few days, as I usually only know it from the East Frisian North Sea coast.